PEO Social Wine Tasting
Wife Linda's service organization had a social gathering with a wine tasting hosted by Julie, and I was delighted to comply with the invitation to curate the wine flight for them.
Julie prepared an extensive food course with which to pair a flight of wines - a selection of artisan cheeses from brie to manchego, followed by turkey breast followed by a beef tenderloin with a coffee rub preparation which gave it a charred taste that I love. Along the way were fresh grapes and apple slices with crackers to cleanse and reset the pallet through the courses.
I pulled a white and two red wines to accompany their foods from our cellar collection. I selected aged vintage wines in that 'Goldilocks window', not too old and not too young, so as to hopefully best represent the wines, and as part of proper cellar inventory management. In the end, the wine selections nicely complemented the foods for a wonderful tasting experience that was enjoyed by all.

The opening wine was from Andretti Cellars, a fun commemoration of one of the diner member's enthusiasm, legacy and career in the auto industry with wine from the legendary International race car driver Mario Andretti.
The wine I selected for their opening course was Villa Andretti Napa Valley Moscato 2019.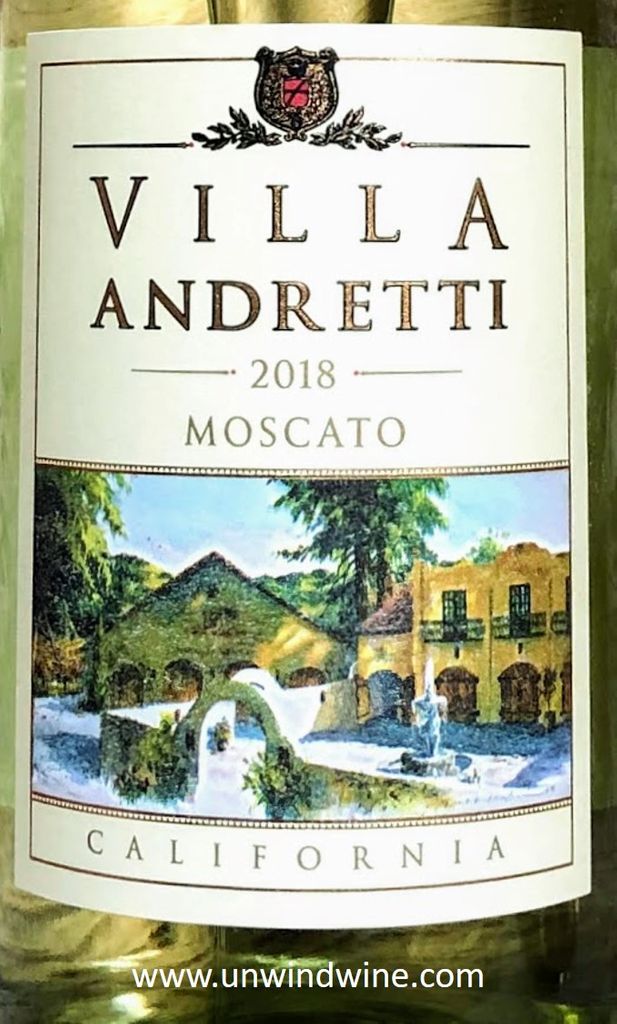 We discovered and acquired this wine
at the winery during our Napa Valley Wine Experience in 2019
.
Andretti Winery strive to create wines that are both fruit-forward and food-friendly, wines that can be thoroughly enjoyed with a meal today or tucked away in the cellar for additional complexity.
This is sourced from various California vineyards. Most Andretti wine are sourced from the Andretti Winery estate vineyard in the Oak Knoll appellation AVA of the Napa Valley, a 42-acre estate
vineyard
, planted with Pinot Grigio, Chardonnay, Sauvignon Blanc and Merlot. The Oak Knoll location is blessed with a climate is cooler than the upper reaches of the Napa Valley, yet warmer than the Carneros region to the south, making it especially conducive to growing diverse varietals such as Pinot Grigio and Chardonnay. This unique climate, combined with quick-draining soils, yields small but intensely flavored grapes, just the sort of fruit that produces the very best wines.
This was ideal with the selection of cheeses and as a pivot to the turkey breast.

Winemaker's notes - Lovely aromas of Bartlett pear syrup, honeysuckle, lavender and orange zest practically jump out of the glass. There is a wonderful balance between acid and sugar on the palate for someone that likes a lightly sweet wine and a finish that lasts forever with hint of Meyer lemon and limoncello.
https://andrettiwinery.com/andretti-wines/
https://www.cellartracker.com/wine.asp?iWine=3297286
The next wine was a Burgundian Pinot Noir to complement the turkey breast and serve as a pivot to the beef tenderloin.

Domaine Tortochot Gevrey-Chambertin "Champerrier" Vieilles Vignes Côte de Nuits 2005
We acquired several bottles of this label back in 2011 and last tasted it in 2021 when I wrote about the producer and estate in detail in this blogpost- Domaine Tortochot Gevrey-Chambertin Champerrier Vieilles Vignes.
Vieilles Vignes meaning "old wines" in French, the label actually indicates that the grapes used to make this bottle comes from older aged vines. In Burgundy, this generally means the vines are at least twenty-five years of age or older.

I wrote in that tasting note - "Its hard to believe but its been almost ten years since I last tasted this label from our cellar. Back then, on 12/26/2011 - I wrote: "Very open and expressive - bright berry, strawberry, mulberry, spice and wood with long moderate tannin finish."

"Consistent with my tasting ten years ago too, this had similar tasting profile and the I blindly gave it the same rating. It showed no diminution of aging whatsoever and it likely still at its apex of its drinking profile.'

"This was garnet colored, medium bodied, bright, concentrated ripe red and blue berry fruits with earthy minerality and violet notes, smooth silky texture with firm but approachable tannins."
Two years later, tonight, at fifteen years of age, the fill level, label, foil, and most importantly, the cork, were all in ideal condition. This wine remains in its prime drinking window, albeit approaching the end and will start to diminish with age in the next few years.

https://unwindwine.blogspot.com/2021/01/domaine-tortochot-gevrey-chambertin.html

Another Cellartracker review wrote: Very open and expressive - bright berry, strawberry, mulberry, spice and wood with long moderate tannin finish.
https://www.cellartracker.com/wine.asp?iWine=537162

Our hostess, Julie, was so enthused by this wine, she went down and selected from her cellar a favored Pinot Noir to try as a tasting comparison with the Burgundian Pinot. Indeed, this is the fun of a tasting with several others, the ability to share and compare several wines.
Gary Farrell Sonoma Russian River Valley Pinot Noir 2019

We know this producer and wine well having visited the winery and estate during our Napa/Sonoma Wine Experience back in 2017. I wrote about this producer and our visit there in this earlier blogpost.
This provided a wonderful contrast in profiles and characteristics of two wines of the same varietal at different stages of their aging window. The Tortochot Gevrey-Chambertin Champerrier was bigger, bolder, brighter and actually a bit obtuse when compared with the smoother and softer Farrell Sonoma RRV, which was more 'behaved' and approachable for enjoyable drinking. In the end, both were delightful and paired with the foods well, each favoring a cheese and meat that had the more complementary profile.
Farrell produces a extensive profile of ultra-premium single vineyard designated Pinot Noirs and Chardonnays. This is their standard bottling blended from numerous vineyard sources.

This Russian River Selection bottling is classic Russian River Valley profile sourced and blended from several of the region's top vineyards, taking advantage of varied climates and unique site characteristics.
Grapes in this release are sourced from the following vineyards Hallberg, Rochioli, Toboni, Martaella, Bacigalupi, Nonella and
Pratt-Lakeview.

The Rochioli and Bacigalupi vineyards are located in the Middle Reach subdivision, where close proximity to the river awards foggy mornings, warm and sunny days, and cool nights – the perfect balance that characterizes the Russian River Valley. The Toboni and Nonella vineyards are located in the Santa Rosa Plain, a distinctly cooler and foggier sub-region, and the Hallberg and Dutton sites within the Green Valley sub-appellation exhibit even more extreme and cooler conditions. A beautiful expression of the varietal and of the appellation's
unique terroir, this Pinot Noir blend captures the richness, purity and elegance that are Gary Farrell Winery's trademarks.
This release was aged 10 months in 30% new French oak.

Winemakers' notes - "Raspberries, red currant and strawberry conserve dominate the nose with underlying
tones of tobacco and forest fl oor. Hints of cola, summer jasmine, honeysuckle, and rose petals further the intrigue. The palate presents a striking brightness and purity, coupled with a generous mouthfeel that delivers fl avors of fresh cherries, garden herbs, and sweet baking spice."
This was rated 93 points by Wine Enthusiast.

https://www.cellartracker.com/wine.asp?iWine=4157367

https://www.garyfarrellwinery.com/

Beaulieu Vineyard Tapestry Reserve Red Bordeaux Blend 2010
This is one of our favorite go-to wines when we want a sophisticated, more complex Bordeaux Blend, rather than a single varietal Cabernet Sauvignon or Merlot.

In the profile of a true Bordeaux Blend, Tapestry is a blend of the all classic Bordeaux varietals: Cabernet Sauvignon, Merlot, Cabernet Franc, Malbec and Petit Verdot.
We had a bottle of this label just last week when I featured it in more detail in these pages - BV Tapestry with beef bourgogne, when it was a fabulous complementary pairing with the beef. Tonight, this was an ideal pairing with the beef tenderloin - especially with the coffee rub preparation that gave it more complexity which I love.

I wrote about Tapestry a while back in a blogpost when we tasted this label at a Chicago restaurant for a team dinner; "Tapestry is a classic
Napa Valley Cabernet Sauvignon
based
Bordeaux Blend
. I consider it a go-to wine, readily available and a safe reliable choice for easy drinking or special occasions, approachable when young but capable for aging. If your overwhelmed or intimidated by the plethora of wines available and not sure what to choose or take to or serve, Tapestry is a safe choice.'
"Our Cellartracker records indicate we hold more than a dozen vintages of this label dating back to the mid-nineties. This is a classic Napa Valley label that provides high QPR - Quality Price Ratio for a Bordeaux Blend. Its another one of those high production label that I believe does a remarkable job achieving and maintaining the level of quality in high volumes and is approachable when young but also has significant aging capability for cellaring. James Suckling says this is "A wine that harkens back to its traditions."
The predominant Cabernet Sauvignon is sourced from the historic BV Ranches No.1 and No. 2 Napa Valley vineyards in Rutherford, selected from specific blocks of reserve-quality grapes that give Tapestry the combined attributes of rich character and softer tannins for relatively early approachability. To complement the Rutherford Bench Cabernet Sauvignon, Merlot is added from Beaulieu's vineyard in the Los Carneros region and the remaining grapes in the Blend from various Napa Valley vineyards.
https://www.cellartracker.com/wine.asp?iWine=1668974
https://www.bvwines.com/