Donnafugata Anthilia Sicilia Bianco DOC 2019
We discovered and tasted Donnafugata wines as part of the Italian Village Chicago virtual wine dinner tasting and food pairing. For the evening, Italian Village Restaurants hosted "A Night in Sicily" presented by Jared Gelband, Italian Village Wine Director and Chef Jose, and guest host Italian Wine Specialist, Daniele Sbordi, who lead a virtual journey to the island of Sicily and a tasting of wines from producer Donnafugata Winery.
Having tried their wines, I was interested to explore more of their portfolio and picked up this label on my next visit to our local wine shop, Binny's, the Chicagoland beverage super store. For a baked pork chop dinner, I opened this Donnafugata Anthilia Sicilia Bianco, a crisp light refreshing easy drinking white, an ideal pairing and perfect for the occasion.

As I wrote in my recent post, Donnafugata is the brand of the Rallo family of Sicily, who have 150 years of tradition in producing premium wines. Wine producers Giacomo Rallo and his wife, Gabriella, launched the Donnafugata brand in 1983. The name Donnafugata, translated literally "woman in flight," refers to the history of the Habsburg queen Maria Carolina who was the consort of Ferdinand IV of Bourbon. In the early 19th century, she fled Naples and found refuge a few miles from the estate's vineyards. Her story inspired the effigy of the head of a woman with her hair tossed by the wind that dominates the label of every bottle of Donnafugata.
Donnafugata wines are produced in three distinct grape-growing sites in western Sicily: the historic cellars in Marsala, built in 1851; the cellar at Contessa Entellina, where the company has 642 acres of vineyards planted to Ansonica, Catarratto, Nero d'Avola, Chardonnay, Viognier, Cabernet Sauvignon, Merlot and Syrah; and the cellar on the volcanic island of Pantelleria, where Donnafugata cultivates 104 acres of Zibibbo vineyards.
Part of their distinctive personality and branding of Donnafugata wines is their library of elaborate labels based on artwork inspired by Gabriella Rallo and designed by Stefano Vitale whose original artwork is featured each on the labels of each of the two dozen wines they produce. All Donnafugata wines are renowned for their use of native Sicilian and international varietals, balancing tradition and innovation in a quest for quality wines.

Wines from Sicily represent over 15% of Italy's total vineyard land - more than the whole country of South Africa and almost as much as Australia!
One third of these Sicilian vineyards' acreage are devoted to the Catarratto grape, followed by Nero d'Avola, the second most produced grape and top red. Much of the Catarratto that is produced is blended with Inzolia and Grillo to make the famous Marsala wine, a fortified wine similar to Port with the rest used to produce mostly affordable everyday wines.
Donnafugata Anthilia Sicilia Bianco DOC 2019
This label is a blend of indigenous Sicilian grapes, mostly Lucido (Catarratto) and Ansonica plus a small amount of other international varieties from southwest Sicily, Italy. The wine was fermented and aged for a short period in stainless steel.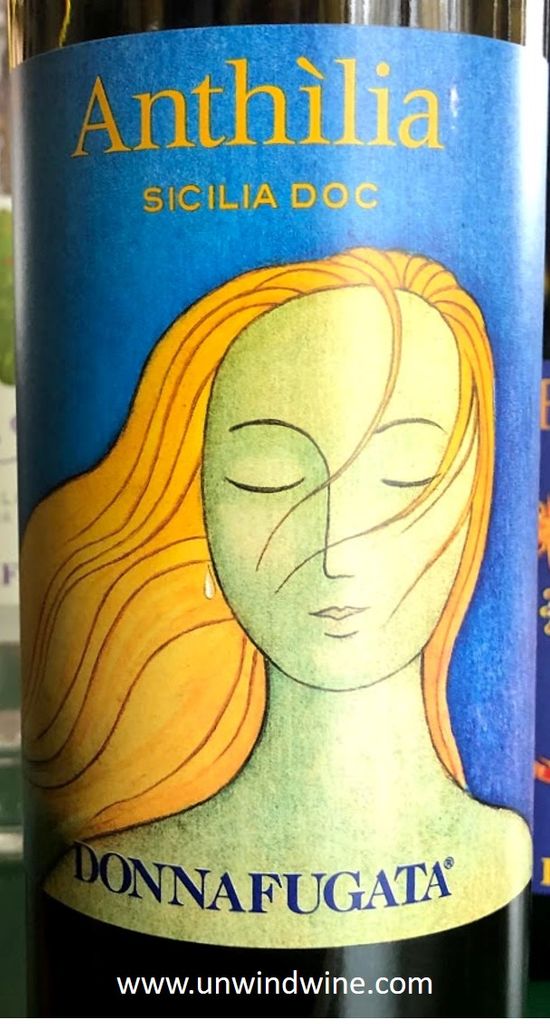 Winemaker notes: Anthìlia is made principally from Catarratto, a white grape native to Sicily and grown at the winery's Contessa Entellina estate and surrounding vineyards. The fruit was vinified cold in stainless steel, then aged for two months in tank and two months in bottle prior to release. The robe is clear yellow and aromatic of citrus fruits and flowers: lemon, lime, melon, bay leaf. There's also a slight reductive note that reads like clay or wet stone. The palate is piquant, with snappy yellow fruits and peels, but the finish is more languid, tapering in ripe tropical pineapple. It's a good partner for young cheeses, especially of goat's milk, and light fish and shellfish preparations. It's also a clever match for briny foods — think green olives, capers, tapenade, feta, anchovies.
More Winemaker notes for this wine: The
2019 Donnafugata Anthilia Sicilia Bianco
begins with a nice crisp and fruity aroma of green apple, pear, peaches, lemon, lime and a touch of tropical fruit. Tasting the wine reveals a nicely tart combination of green apple, a little grapefruit, pear and creamy lemon/lime zest. This delicious wine has a great lively yet soft texture, good acidity and excellent underlying minerality. On the quite long and lingering finish that minerality turns chalky and comes to the front.
This was rated 91points by James Suckling and 90 points by Wine Enthusiast.
Light straw yellow colored, light bodied, fresh, lively and crisp with a fruity bouquet white apple and pear fruits with hints of citrus and wildflowers.
RM 87 points.
https://www.cellartracker.com/wine.asp?iWine=3619328
https://www.donnafugata.it/en/
https://www.donnafugata.it/en/wines/anthilia/

@DonnafugataWine
@italianvlg
@unwindwine