Ninety-Plus Cellars Lot 94 Rutherford Cabernet Sauvignon with grilled steak, caprese and balsamic vinagrettes.


Following the delightful dinner we had the other evening with grilled steak and caprese with balsamic vinagrettes, we did an encore, but tonight pulled from the cellar a hearty robust Napa Cabernet from this private label negociant label.
Once again, as the other night, a delicious pairing combination where I wrote extensively about this balsamic, steak caprese combo, highlighting the accentuated food and wine pairing.

I've written often in these pages the Ninety-Plus Cellars story with their negociant wines or surplus wines acquired and private labeled, often at high QPR below market prices. They offer a broad selection of labels from the wine regions around the world, often at great value. Occasionally, they offer extraordinary wines at affordable prices for everyday drinking. Ninety-Plus label or Lot # is often due to excess supply or other reasons.

When I last tried this label a year ago, I wrote that it was uninspiring and leaving much to be desired. Having modest expectations, tonight this was very enjoyable and ideally suited to pair with the grilled steak, caprese and selection of artisan cheese.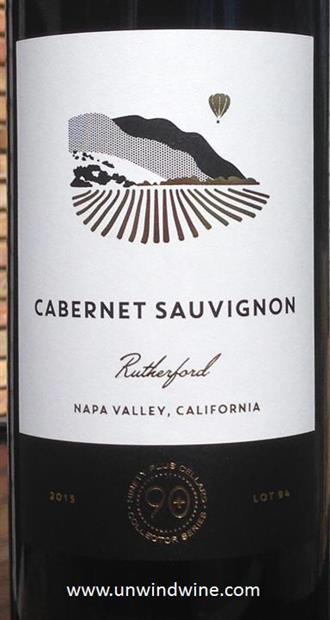 Wine collectors understand the axiom of pricing wine for the occasion ... every day wines, once a week wines, once a month wines and once in a lifetime or special occasion wines. Only the privileged few need not worry about budgets or costs of their beverage choice du jour.

I bought this wine for such an occasion as tonight, respectable drinker at a moderate price for a midweek dinner.

Lot 94 is part of the Ninety-Plus Cellars' popular Collector's Series wine brand. It is a full-bodied Napa Cab from highly-regarded vineyard sites in the distinguished Rutherford AVA, a good value when compared to the Napa Cabs produced from such sites.

When I last tasted this last fall I rated this 90 Points and wrote, "The 2017 is a top flight Cabernet, sophisticated, complex and enjoyable for early gratification, drinking now, and may likely improve further with 2 to 5 years of aging or more as it is not equal to the 2015 which was a bit better integrated and polished."

Ninety-Plus writes of this label, "the fruit is picked from vines situated on the east side of the valley in a vineyard that was first planted in the 1890s. Upon alluvial and volcanic soils these densely planted vines produce Cabernet Sauvignon that makes some of the best wine in Napa. This is an all-star Cabernet with an elite pedigree."

Consistent with my earlier tasting, "While I echo the negociant's (Ninety Plus Cellars) tasting notes on this release: "Deep crimson in color with lavish aromas of black currant, mocha, and savory herbs with trailing notes of tobacco and vanilla. Full-bodied and well-rounded with soft edges and a lively dose of bright cherry fruit that unfolds into a smooth finish," this lacked balance and polish I hoped for pleasant high QPR everyday sipping. The fruits were a bit obtuse and forward with a somewhat flabby less approachable profile."

RM 88 points.

https://unwindwine.blogspot.com/2019/09/90-lot-94-2017.html

https://www.ninetypluscellars.com/