Kilikanoon "Oracle" Shiraz Clare Valley South Australia 2004
Linda prepared a hearty Chicken Cacciatore with Rice. While an ideal pairing might have been a bright white wine, Italian cuisine might dictate a Sangiovese with acidic tomato sauces, we opted for a hearty big red and I pulled from the cellar one of our favorites, Kilikanoon "Oracle" Shiraz from Clare Valley in South Australia.
We have fun with this wine as a sentimental favorite, as its name Oracle is also the name of Linda's high school teams, from her home town of Delphi in Indiana, hence Oracle was a suitable name.
The name refers to the Oracle at Delphi, which was the most famous "oracle" in ancient Greece, and people from all the then-known world would flock to the temple of Apollo seeking advice. The long path leading up the mountain to Apollo's temple, called the Sacred Way, was lined with treasure houses filled with costly gifts that leaders and cities had given to Apollo.
Oracle has been the flagship wine of Kilikanoon since founding in 1997. Starting as a single vineyard wine from the famed 40 year old vines of 'Mort's Block' Clare Valley vineyard, named for founder Mort Mitchel, Oracle has long been a standard bearer for the finest of Clare Valley Shiraz.
Winemaker and proprietor Kevin Mitchell purchased the property of the same name in the hamlet of Penwortham in Leasingham in South Australia's picturesque Clare Valley. Hailing from a long line of wine grape growers, his father Mort Mitchell planted and tended Kilikanoon's Golden Hillside suite of vineyards that include the famed Mort's Block, for over 40 years. Kevin spent years working along his father working the vineyards and learning the nuances of the distinctive terroir.

The first Kilikanoon branded wines from the 1997 vintage were four single vineyard wines, each from Kevin and Mort's vineyards; 'Oracle' Shiraz, 'Prodigal' Grenache, 'Blocks Road' Cabernet and 'Mort's Block' Watervale Riesling.
In the 2002 Clare Valley Wine Show chaired by prominent Australian wine writer and judge, Huon Hooke, Kilikanoon gained notoriety by winning 6 of the 7 trophies awarded. Oracle Shiraz has twice won 'Best Shiraz' at International wine shows, and James Halliday's Australian Wine Companion named Kilikanoon 'Winery of the Year' in 2013. In 2014, Kevin Mitchell was inducted into the inaugural Clare Valley Hall of Fame as Winemaker of the Year.

Kilikanoon "Oracle" Shiraz Clare Valley South Australia 2004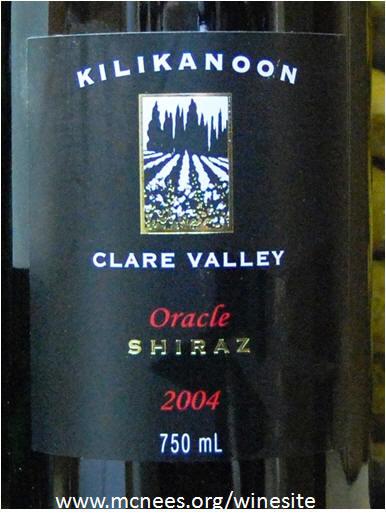 With the exception of the 2011 vintage, each year since 1997 Killikanoon have released the iconic Oracle Shiraz.
Robert Parker gave this wine 97 points, James Halliday and Vinous 93 points, and Wine Spectator 92 points.
Dense inky purple colored, rich, full bodied and concentrated yet well balanced black and blue berry fruits with floral, cinnamon and clove spices, cassis, licorice and espresso turning to firm but approachable tannins on a long finish.
Showing its age a bit at sixteen years, the fruits are taking on a burnt raisin layer indicating its time to drink as this is past its prime and will continue to decline from here forward.
RM 92 points.
https://www.cellartracker.com/wine.asp?iWine=234312
https://twitter.com/kilikanoonwines

@kilikanoonwines