Culler Napa Valley Cabernet Sauvignon 2005
Following our enjoyment of the Ladera 2005 Napa Cabernet the other evening, we followed with another Napa Cabernet from the same vintage, crafted by the same winemaker for a comparison tasting.

This label is the proprietary blend from Ladera winemaker Karen Culler. Karen started her winemaking career as a child, making homemade wine with her father and grandfather in Ohio. After completing her Bachelors degree in Botany and Agronomy from Ohio State University, she moved to Seattle. After a short period working in marine biology lab, she went to work for Columbia Winery in Seattle for a year, then attended UC Davis and earned her Master's Degree in Viticulture and Enology in 1984.
She spent two years in the Mondavi Research Department and when Robert Mondavi purchased Vichon Winery, Karen was appointed Assistant Winemaker in 1986, becoming Winemaker in 1989, producing Chardonnay, Sauvignon Blanc, Merlot and Cabernet Sauvignon.
In 1996, when Mondavi discontinued the Vichon Napa Valley brand, Karen set out on her own starting her Culler Wines brand with the 1997 harvest. She went on to consult as winemaker to other Napa Valley producers starting with Renteria in 1997. adding Ladera in 1998, their inaugural vintage, and later Wolf Family Vineyards and Rivera.
For Culler Wines, Karen sourced fruit from vineyards in Napa Valley and a few select areas in Sonoma. She produceds three Syrahs, a Howell Mountain Cabernet Sauvignon sourced from Ladera vineyards, and this La Palette label, a red blend.
Culler "La Palette" Napa Valley Cabernet Sauvignon 2005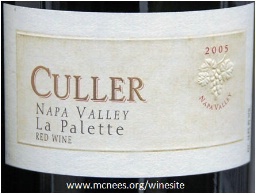 This release is a blend of 91% Cabernet Sauvignon and 9% Petit Verdot sourced from fruit from Alexander Valley Ranch.
The 2005 release of La Pallette was awarded 93 points by Robert Parker's Wine Advocate and 91 points by Stephen Tanzer's International Wine Cellar.
This label release should not be confused with Culler's 2005 Cabernet Sauvignon from Howell Mountain (from Ladera vineyards). It was awarded 95 points by Robert Parker's Wine Advocate.
This was dark inky garnet colored, medium full bodied, intense dense black fruits, tight and firmly structured, lacking the polish of the 2005 Ladera Napa Cab we drank the other evening. Notes of wood, lead pencil graphite, herbs, licorice and leather with hints of dark mocha, turning to firm tannins on the layered lingering finish.
RM 91 points.