Newton Napa Valley Unfiltered Chardonnay 2017
Friday night stay at home movie date night, we opened this premium Napa Valley Chardonnay with a plate of artisan cheeses, ham and sweet gherkins. We served this producer's Newton Napa Valley Cabernet in a large format 6-liter Imperial bottle from our son Alec's birth year vintage at his wedding celebration welcome reception back in 2021. We wrote about that in this blogpost - Big Bottle Birthyear wines for Wedding Celebration at the time. (Our collection of large format bottles for our kids' birth years was the basis for our cellar being featured in the Collecting section of Wine Spectator Magazine back in June 2001).

Newton was founded in 1977 by English businessman Peter Newton and his Chinese wife Su Hua. Peter Newton was already renowned as a pioneer Napa Valley winemaker having founded Sterling Winery near Calistoga in the 1960s. We visited Sterling with its Disneyland like aerial skylift up to the mountaintop art museum and winery in the late seventies during our very first trip to Napa Valley.

Peter Newton developed a single square mile of hillside on high up Spring Mountain in 1977. The site's terraced mountain estate has less than one-fifth of its total 490 acres planted to vines at elevations ranging from 500 to 1,600 feet above sea level. The non-farmed acreage remains in its native forested state providing natural habitat for indigenous wildlife.
The Newtons transformed one square mile of rolling hillside in Spring Mountain into one of the Napa Valley's most prestigious estates, whose wines have graced the official dinners of several US presidents. The Newton estate encompasses 170 acres of prime Napa Valley terroir, distributed over four separate, wholly owned vineyards: Spring Mountain, Yountville, Mount Veeder and Carneros.
Newton is known for producing wines that are uniquely characterful expressions of varietals emblematic of the Napa Valley, notably Chardonnay and Cabernet Sauvignon.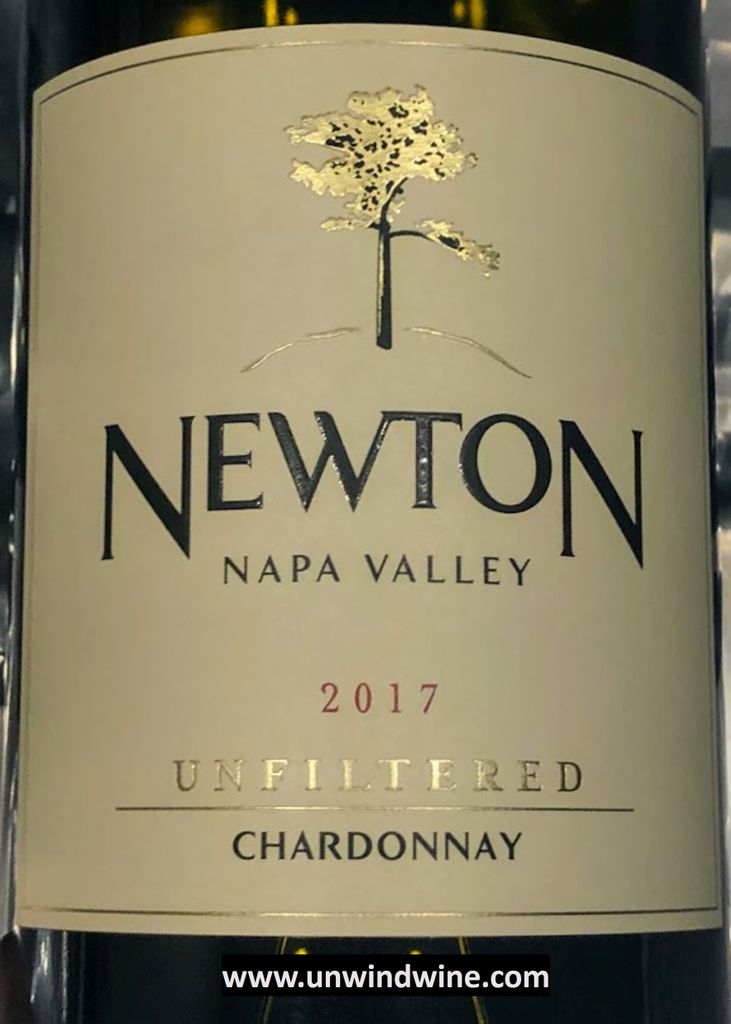 For this
Chardonnay
, they source grapes primarily from the Napa
Carneros
AVA, along with Rutherford, and with small quantities coming from Mendocino Ridge AVAs.
Carneros is marked by well-drained soils and rolling hills that border the San Pablo Bay. Sea breezes from the nearby bay, combined with morning and afternoon fog, keep temperatures cool and consistent. As a result, the area supports a long growing season, which allows grapes to achieve even and optimal ripeness—leading to wines of exceptional length and freshness. Rutherford is located in the heart of Napa Valley, is characterized by warmer days and richer soils. Rutherford fruit adds volume and body to the blend.

Winemaker notes - Nose of tropical fruit, vanilla and lemon merangue. Medium to full bodied, lots of honey, some beeswax, and citrus flavors. Some butter and toast as well. Still a bit oaky, but not to a level as to interfere with enjoyment of this wine.

This is barrel-fermented and unfiltered making the wine very creamy on the palate. A classic fragrant with orange blossom aromas, dry, mouth-filling on the palate with white florals, ripe red apple, pear, tropical fruit and toasty oak spice flavours. - Community Wine Reviews
This was awarded 93 points byJames Suckling and 91 points by Natalie McClean.

A style signature of Newton: Elegant and precise, excellent balance between freshness, complexity, richness and structure.
Straw colored, medium to full bodied, bright expressive, complex, dense forward ripe stone, pear and apple fruits with a pronounced layer of distinctive butterscotch.
RM 92 points.

https://www.cellartracker.com/wine.asp?iWine=3445650